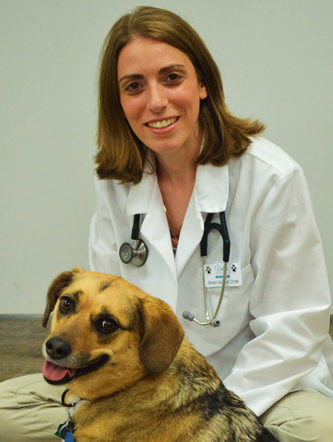 Dr. Shani Scherr was born and raised here in Baltimore. She graduated from Pikesville High School then received her bachelor's degree in biology from Towson University in 2000. Dr. Scherr received her Doctor of Veterinary Medicine from Ross University in 2005. After graduating from vet school, she moved to Rochester, New York where she practiced for two years. However, she missed being near her family so she decided to move back to Maryland. When she came home, she worked for two years at a private practice, before joining the team at a large corporate practice where she has worked for six years. Dr. Scherr is excited to be a co-owner at Valley Dog and Cat Hospital,  right here in her home town.
Dr. Scherr and her family share their home with their nine year old beagle mix, Penny, their two year old lab mix, Morty, and their cat Rizzo.
As a vet, Dr. Scherr feels that it is her responsibility to be the voice of your pets. She prides herself on her ability to "read" dogs and cats and understand what they are trying to say. Dr. Scherr believes that communication and client education are essential to building a lifetime relationship with pets and their families, so she is always willing to set aside time to make sure every client fully understands what is going on with their pet. Dr. Scherr enjoys soft tissue surgery and complicated internal medicine cases, as well as routine preventive care. However, her favorite part of her job, is forming relationships with clients and their pets. In her free time, Dr. Scherr enjoys hiking with the dogs, cheering on the Ravens, and spending time with her family.